ICAC TASK FORCES NEED FAST FIELD FORENSIC SOFTWARE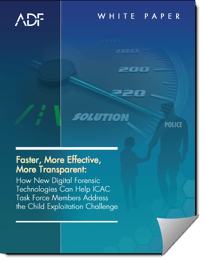 Child exploitation is growing exponentially and ICAC Task Force members are at the front line of the fight. The problem is serious and growing with an increase in reported online enticement attempts up over 230% in a four-year period.
The traditional digital forensics process can't keep up.
Fortunately, there is a better way forward in the approach to solving child exploitation crimes and investigating the proliferation of child sexual abuse material. Investigators need tools that empower front-line investigators to make rapid determinations on-scene.
Field forensics software, such as Mobile Device Investigator®, lets you collect, analyze and report on child exploitation cases at the start of your investigation so you can police with intelligence.