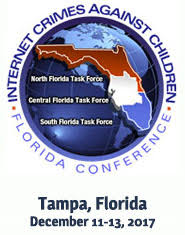 ADF sponsored the 2017 Florida ICAC Training Symposium which was sponsored by the FL ICAC Task Force, along with the Florida Department of Law Enforcement, Child Abduction Response Team (CART) and Offender Registration and Enforcement.
The three day event, held in Tampa, Florida is an annual event designed to expand the efforts and knowledge base of law enforcement investigators and prosecutors by providing highly specialized training focused on investigating and prosecuting technology-facilitated crimes against children.
ADF's Digital Forensic Specialist, Rich Frawley, presented Digital Evidence Investigator to showcase how investigators can save valuable time on child exploitation investigations using Digital Evidence Investigator®.