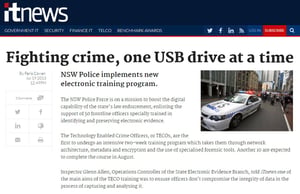 New South Wales Police are training front line officers in the use of specialized digital forensic tools including ADF Triage-Examiner. "The NSW Police Force is on a mission to boost the digital capability of the state's law enforcement, enlisting the support of 50 frontline officers specially trained in identifying and preserving electronic evidence."
"Inspector Glenn Allen, Operations Controller of the State Electronic Evidence Branch, told iTnews one of the main aims of the TECO training was to ensure officers don't compromise the integrity of data in the process of capturing and analysing it.
Take SMS messages as an example, he said.
If an officer was simply to go through the inbox of a suspect's phone then they would unintentionally change the data. A message would be changed from being unread to read and the officer would have modified the access times as recorded on the device."
Note that since the time of this article, Triage-Examiner has been renamed Triage-Investigator.