ADF Authorized Partner Ninja Info-Sec based in India is an ISO 27001:2013 & 9001:2008 Certified organization providing Digital Forensics services including:
Forensic Lab Setup
Cloud Computing Forensics
Computer Forensic Investigations
Cybercrime Investigations
Mobile SIM Card Forensics
Ninja Info-Sec also provides forensic training services to corporate, military and law enforcement. The company is led by
Mr. Yogesh Ranjan Upadhyay,

CEI,ECSA,CEH,RHCE,AIX,SCP, Cyber Laywer, ISO 20 K Lead

Ms. Sadhana Ojha,

CEI,ECSA,CEH,SCP, Cyber Laywer, ISO 20 K Lead Auditor
In addition to digital forensic services, Ninja Info-Sec also provides a variety of compliance and audit assessment services.
318, EB Seheme No. 94
Vijay Nagar Indore, 452010 M.P. India
Phone: +91-9981411555

---
DEPLOY TO THE FIELD: SPEED YOUR COMPUTER INVESTIGATIONS
ADF Field InvestigatorTM for Teams are designed to quickly equip law enforcement agencies with a desire to expand their computer forensic capabilities beyond the forensic lab.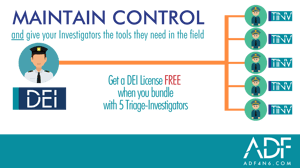 Cybercrime in India continues to grow at a record pace and agencies are struggling to keep pace. Highly trained investigators are reluctant to expand their capabilities into the field for fear of losing control and they simply can't afford the time or the expense of training more investigators on expensive digital forensic tools.
Field Investigator for Teams solves these problems in a quick, affordable way. By combining two of ADF's most popular digital forensic and triage tools, Digital Evidence Investigator® (DEI) and Triage-Investigator® (TINV). ADF's Field InvestigatorTM for Teams gives:
Highly trained investigators and lab examiners control over what field investigators are able to collect and analyze with custom search profiles

Non-technical field investigators an easy-to-use field forensic tools which is automated for on-scene decisions

Confidence in rapid field triage, with the ability to seize only what is necessary, and the ability to quickly create and share court ready reports
Even the most non-technical field investigators will have confidence when deployed to investigate computers using Triage-Investigator®. Your newly empowered field investigators and task force members will play an integral role in reducing and eliminating forensic backlogs, and more importantly, they'll be empowered to perform RAM dump forensics, triage computers, and quickly identify victims and suspects and and make decisions on-scene.
See a full list of digital forensic companies in India specializing in mobile triage, computer forensics and consulting for India police, government and corporate entities including Pelorus, Pyramid Cyber, Whistle Forensic, 3rd Eye Techno Solutions and others.