Solving Fraud & Economic Crimes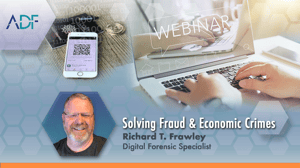 Fraud and economic crimes are now common occurrences in corporations, nonprofits, universities and government agencies. Corporate and private investigators face a daunting task of responding to fraud and economic crimes quickly in order to preserve evidence and prevent harm to additional individuals, organizations or governments. Fraud and economic crime cases typically involve seizures of multiple computers and devices.
Our resident Digital Forensic Specialist, Rich Frawley, will leads you through fraud investigation best practices in this recorded webinar video. Rich showcases how investigators and Digital Crimes Units are saving time using ADF's intelligent approach to investigating cases quickly thereby reducing the need to image every device and reducing forensic backlogs.
Audience: This webinar is specifically designed for digital forensic investigators and examiners who seek to rapidly collect, analyze and report on digital evidence found as a result of a crime or an investigation.