THE ADF SOLUTIONS TEAM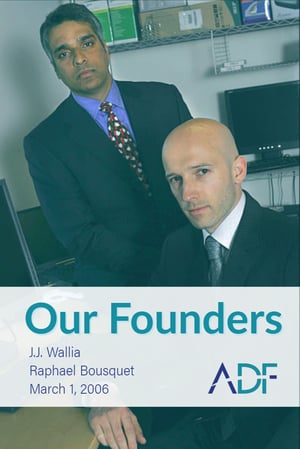 ADF Solutions founders, J.J. Wallia and Raphael Bousquet had been selling software together at a technology company when they discovered that their clients in the law enforcement community had very, very, specific needs. The two decided to launch ADF to serve the needs of law enforcement around the world who shared a need to quickly collect and analyze large amounts of data on suspect computers to identify evidence or decide if further analysis is necessary.
J.J. co-founded Advanced Digital Forensics after serving as Vice President of Sales for LTU Technologies, a leading image recognition software company based in Paris, France. J.J. has a strong background in strategy and finance and enjoys working close with enterprise commercial and government clients around the world.
Raphael co-founded Advanced Digital Forensics after serving as Director of Professional Services and Chief Architect for LTU Technologies, a leading image recognition software company based in Paris, France. As Chief Technology Officer, Raphael overseas ADF's forensic team and software development team.
As Director of Operations, Finance and Human Resources, Charissa is responsible for accounting, budgeting, human resources, and overall corporate operations. With over 20 years of experience in corporate operations and client relationships. Charissa oversees all day-to-day operations to ensure ADF team members have everything they need to be successful serving our corporate, government and military clients around the globe.
Richard Drinkwater Digital Forensics & Training Manager
With 30 years of law enforcement experience, Richard brings specialized expertise to ADF managing both the digital forensics team and delivering Triage-G2, Triage-Investigator, and Digital Evidence Investigator training to clients throughout Europe, Africa and Asia. Richard was a Fraud Squad Detective for ten years until he switched to the Hi-Tech Crime Unit where he spent the last eight years of his service. He is a very experienced computer forensics investigator having worked on varied casework including child abuse, fraud, serious and organised crime and murder investigations. Richard knows how to seek out evidence from within extracted data and has considerable experience of presenting evidence in court.
Bret Peters

Director of Global Marketing
Bret leads worldwide marketing and customer engagement for ADF. Prior to his role with ADF Solutions, Bret was Chief Marketing Officer at Fig Leaf Software, a Service-Disabled Veteran-Owned Small Business (SDVOSB) based in Washington, DC. Fig Leaf was named to the Inc. 500|5000 fastest-growing private businesses for three consecutive years. Bret created built strong business partnerships with companies including Google (GOOG), Adobe (ADBE), Amazon (AWS), HubSpot (HUBS), and other leading digital transformation companies. Bret is an Adjunct Professor at Georgetown University.
Richard Frawley Digital Forensic Specialist and Trainer
Rich spent 22 years in law enforcement and he's been a Certified Forensic Computer Examiner (CFCE) since 2004 and re-certified last in 2013. Rich leads U.S. support and has extensive knowledge and expertise in the latest IT and digital forensic skills for Windows, Linux, and Mac, as well as mobile devices (including iOS and Android). Rich is extremely knowledgeable of forensic examination of network intrusions and has deep experience in the collection, examination, analysis, and reporting of digital evidence. As an experienced teacher, mentor, and presenter with relevant experience in courtroom testimony, Rich brings real-world experience to his lectures, labs and hands-on training in the U.S. and overseas.