THE KEYS TO SEX OFFENDER MANAGEMENT WITH DIGITAL FORENSICS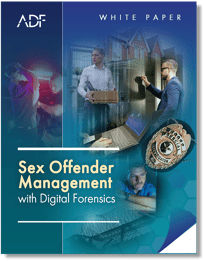 The current system of offender supervision is often inefficient and poses an increased risk to public safety. Full forensic examinations are not practical for the majority of community supervision cases.
Using ADF software, probation and parole officers can be easily trained to use Quick Search Profiles to quickly scan devices during the course of probation or parole check-ins.
ADF's Digital Evidence Investigator PRO allows for the acquisition of all the evidence needed to successfully prosecute a case. DEI PRO is the all-in-one digital evidence forensics, triage, and media exploitation software built for speed, scalability, and ease of use for front-line investigators who need results. DEI PRO quickly processes and analyzes smartphones (iOS and Android), computers, external drives, drive images, and other media storage (USB flash drives, memory cards, etc.). DEI PRO can be used for sex offender management giving probation/parole officers the power to scan sex offenders' phones. Deploy ADF tools across teams to enable agents to make rapid field checks on convicted sex offenders. Having field-based forensic tools empowers agents to make immediate decisions and speed up the protection of victims.