Digital Forensics: Computer & mobile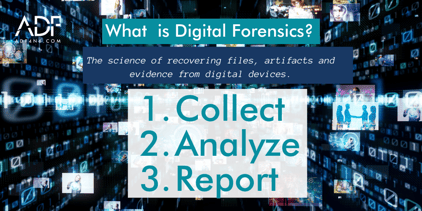 The science of recovering files, artifacts and evidence from digital devices including mobile phones, tablets, computers (including Windows, Mac and Linux), external drives, drive images, and other media storage (USB flash drives, memory cards, etc.).
Digital forensics investigators can work for law enforcement, corporations or have their own private investigation firms. As a result of personal computing in the 1970s and 1980s, and the growth of the Internet in the 1990s and 2000s, today's investigations (corporate, civil and criminal) increasingly involve the need to access digital data to identify suspects, victims, witnesses, and to prove innocence or guilt.
Digital forensics investigations typically follow a three-phase forensic process which includes:
Collection / Acquisition - this can involve triage, seizure and/or forensic imaging of devices
Analysis of Digital Evidence - which can be done on-scene or in a digital forensic lab or with a blended approach of field-to-lab analysis
Reporting - depending on the nature of the investigation this can range from less formal to very formal
It is common for investigators and lab examiners to standardize on digital forensic tools and equipment and they typically have a variety of software and hardware, just as a mechanic tends to have a variety of tools in their garage. Investigators need to be prepared to perform forensic investigations based on the nature of the crime or investigation.
---
Focused on Speed and Accuracy
As a digital forensics company, ADF Solutions is focused on helping professionals and organizations quickly solve investigations through the collection, analysis and reporting on data that is found on digital devices. We empower investigators to begin (and often solve) their investigation on-scene using a forensic triage approach.
ADF Solutions was founded in 2006 on the knowledge that the need for digital investigations would grow exponentially with the increasing reliance on digital devices, the Internet, and the growth of Big Data, Internet of Things (IoT), machine learning and artificial intelligence. ADF's goal is to increase the speed of digital investigations, and to make it easier for non-technical operators to perform investigations, analyze the data and create court-ready reports.
Because ADF digital forensic software is affordable and easy-to-use, investigators and forensic professionals worldwide rely on ADF Digital Evidence Investigator®, Triage-Investigator®, and Triage-G2® to power on-scene and lab investigations. ADF tools are used globally by law enforcement agencies forming a High Tech Crime Unit (HTCU), investigating Financial Fraud, responding to mass casualty events, or solving Internet Crimes Against Children, among other uses. Corporate investigators, universities, and the military also rely on ADF software to power their investigations. While they may not have the same requirements as law enforcement, these organizations value the forensically sound manner in which our software operates.
---
ADF Certified Training
Want to learn digital forensics online? Our self-paced online classes are available 24x7 so you can learn from the comfort of your home or office. All of our classes are taught by law enforcement veterans with deep experience investigating computers and mobile devices.
---
Find Digital Forensic Experts Near You
Looking for an expert in digital forensics near you? Our worldwide network of ADF Authorized Partners with skills in computer forensics investigations, mobile forensics investigations, building digital forensic labs, and investigating corporate, civil and criminal offenses of all types (fraud, financial crimes, human trafficking, child exploitation, counter-terrorism, as well as incident response and cybersecurity investigations.