THE FASTEST MILITARY SITE EXPLOITATION TOOLS
Military Field Operators Rely on ADF DOMEX Software for Sensitive Site Exploitation
Military leaders tasked with protecting a nation understand the value of gathering field intelligence quickly and efficiently.
ADF has been a leading choice for Sensitive Site Exploitation for more than a dozen years. ADF's Triage-G2 and Triage-G2 PRO product enable field operators to rapidly collect and exploit captured equipment, media and documents in theaters of operation around the world for:
Counter terrorism

Force protection

Information warfare

National security needs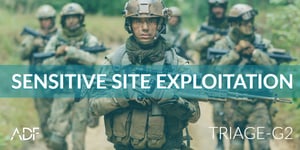 Operators provided with ADF DOMEX kits for field forensics are equipped to inventory, acquire and analyze all aspects of a sensitive site including digital photography, documents, and electronic media from mobile phones, computers and devices. As the leading SSE tool, ADF provides powerful entity extraction and multilingual text analysis and translation to English in 230+ languages.
Triage-G2® is the leading digital forensic triage software typically deployed in Biometric Kits for Sensitive Site Exploitation. Operators are trained in Triage-G2 by ADF Solutions digital forensic specialists and certified trainers or by the Global Forensic and Justice Center which provides exploitation training as an intensive interactive course to prepare operators to gather Intel on-site.