Mac Forensics: The Investigation of M1 and T2 Chips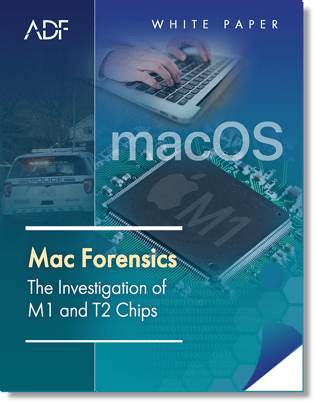 Investigators can now scan all available Mac Operating System (macOS) computers (including Macs with T2 or M1 chips) with all types of encryption and virtual drives by running a remote agent that communicates with the desktop application 1 Now investigators can perform digital forensic triage on all Macs including:
macOS T2 chip
macOS M1 chip
Mac Fusion Drive
In this white paper, ADF Solutions will examine how the investigative power of scanning Mac M1 and T2 chips can help further forensic investigations in the lab and the field.
Empowering Investigators with CSAM Age Detection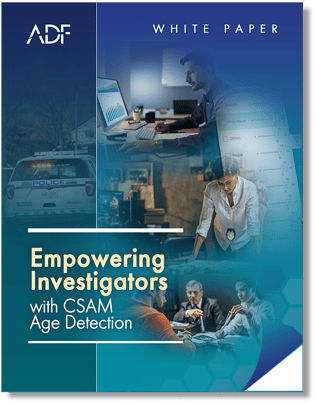 Investigating crimes against children has been at the forefront of law enforcement's initiatives to dedicate specialized manpower and equipment in order to battle this issue. It is not an easy issue to tackle as it manifests in many different ways and sometimes requires three or more specialized units working together to bring the offenders to justice and then another specialized unit to manage the offenders after release.
This white paper will examine the realities of investigating human trafficking and child exploitation specifically around the age estimation of child sexual abuse material (CSAM). The paper will conclude with how ADF Solutions along with technology partner, Suspect Technologies, helps investigators collect and analyze CSAM. This is then used to create actionable, shareable reports to build a solid case against suspected perpetrators in order to prevent revictimization.
Empowering First Responders with Digital Intelligence Tools to Fight Terrorism
Military and intelligence officers process an ever-increasing amount of data from which they need to gather actionable intelligence. This data comes from a variety of devices seized in combat operations or during an investigation.
The challenge facing many forward operators is gathering and processing large amounts of suspect data quickly. DOMEX analysis is useful and necessary, but difficult to capture and assess without the proper equipment. Often, officers receive intelligence from a variety of electronic devices that can take a lot of time to process.
Triage-G2® PRO is the leading digital forensic triage software typically deployed in Biometric Kits for Sensitive Site Exploitation. Operators are trained in Triage-G2 PRO by ADF Solutions digital forensic specialists and certified trainers which provides exploitation training as an intensive interactive course to prepare operators to gather Intel on-site.
Sex Offender Management with Digital Forensics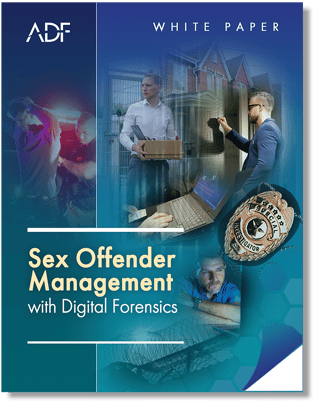 The current system of offender supervision is often inefficient and poses an increased risk to public safety. Full forensic examinations are not practical for the majority of community supervision cases.
Using ADF software, probation and parole officers can be easily trained to use Quick Search Profiles to quickly scan devices during the course of probation or parole check-ins.
ADF's Digital Evidence Investigator PRO allows for the acquisition of all the evidence needed to successfully prosecute a case. DEI PRO is the all-in-one digital evidence forensics, triage, and media exploitation software built for speed, scalability, and ease of use for front-line investigators who need results
Faster, More Effective, More Transparent; How New Digital Forensic Technologies Can Help ICAC Task Force Members Address the Child Exploitation Challenge
Child exploitation is growing exponentially and ICAC Task Force members are at the front line of the fight.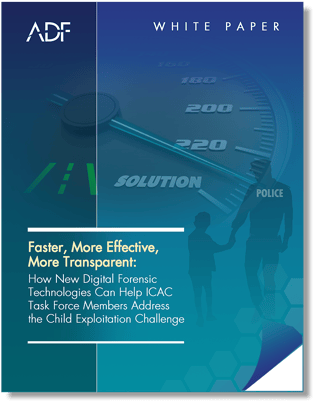 The problem is serious and growing with an increase in reported online enticement attempts up over 230% in a four-year period.
The traditional digital forensics process can't keep up.
Fortunately, there is a better way forward in the approach to solving child exploitation crimes and investigating the proliferation of child sexual abuse material. Investigators need tools that empower front-line investigators to make rapid determinations on-scene.
Field forensics software, such as Mobile Device Investigator®, lets you collect, analyze and report on child exploitation cases at the start of your investigation so you can police with intelligence. The Mobile Device Investigator® software tool is user-friendly and requires minimal training since it is designed to be operated by front-line police, sheriffs, field agents, and investigators. Users can connect a suspect device via USB port to quickly collect evidence and perform a fast logical acquisition of up to 4GB of data per minute.