THE BEST DIGITAL FORENSICS FOR OFFENDER SUPERVISION
Probation & Parole Officers rely on Mobile Device Investigator for Rapid Offender Supervision
The current system of offender supervision is often inefficient and poses an increased risk to public safety. Full forensic examinations are not practical for the majority of community supervision cases.
Using ADF software, probation and parole officers can be easily trained to use Quick Search Profiles to quickly scan devices during the course of probation or parole check-ins to identify:
Call logs

Calendars

Contacts

Installed applications

Messages

Searched items

Bookmarks

Web history

Wireless networks

Audio files

Databases

Media

Documents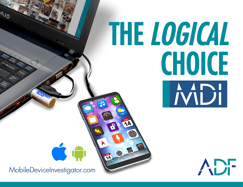 Mobile Device Investigator, for instance, provides all the evidence needed to successfully prosecute a case. MDI offers a cost-effective way for probation, parole, and law enforcement agencies with a viable solution for field-based offender management.
Deploy ADF tools across teams to enable agents to make rapid field checks on convicted sex offenders, fraud offenders, and cybercriminals on parole. Having field-based forensic tools empowers agents to make immediate decisions and to speed up the protection of victims.