Learn digital forensics at your own pace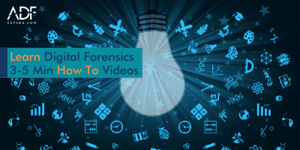 ADF Solutions has created short "how-to" videos which are designed to teach key concepts in short, easy-to-learn formats. If you are new to ADF Software and would like a personal demo of any of our products, please request a demo and we'll be delighted to walk you through our software and discuss how we speed digital forensics investigations and help reduce forensic backlogs.
These free videos are created and frequently updated by our digital forensic specialists and trainers that come to us with experience in investigations and law enforcement. For learners interested in achieving an ADF training certification, we invite you to check out our free live, on-demand webinars or learn more about our in-person and online self paced training classes.
---
Watch Short "How To" Videos (They're FREE!)