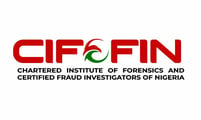 ADF Authorized Partner, Chartered Institute of Forensics and Fraud Examiners of Nigeria (CIFCFIN) is one of the leading and most highly recognized fraud investigation and prevention education services in Nigeria.
CIFCFIN's mission is to redefine standards of integrity and professional excellence in forensic accounting and fraud prevention through discipline, applied and instructional research, and community service. They provide training to their members so they may go out into the field with the experience and confidence necessary to practice forensic accounting, fraud investigation, and prevention.
CIFCFIN teaches its members to not only investigate fraud but to reduce the likelihood of fraud taking place, to begin with, and how to build an investigation from start to finish. Their members learn to identify the critical steps of an internal fraud investigation leading to a structured forensic audit as a proactive fraud prevention measure and help mitigate the potential for white-collar crime within an organization. Their members' actions minimize the propensity for fraud and theft which allows a company to identify the point of theft while recovering stolen resources and lost time.
This organization also ensures that they teach the global standard of best fraud prevention practices, while also promoting the field of forensic accounting. The cases that their members investigate have caused them to work in multiple countries around the world and show off their robust knowledge of global forensic auditing standards to companies and agencies around the world.CIFCFIN takes pride in their team's ability to work collaboratively in a team environment to ensure no crime goes unsolved. Their investigators are skilled at working with law enforcement agencies, prosecutors, and other professionals to bring perpetrators to justice. The institute's field investigations and expert instructions have led to numerous successful prosecutions for economic crimes. They are dedicated to ensuring that all fraud and financial crimes are uncovered and punished, and that justice is served. With a commitment to integrity, excellence, and professionalism, CIFCFIN is a trusted partner in the fight against fraud.
ANAN House, Plot 559,
Mabushi District, Off Ahmadu Bello Way,
Abuja, FCT- Abuja, Nigeria.
Tel: +44 (0) 1782 286 300