Exterro empowers legal teams to proactively and defensibly manage their Legal Governance, Risk, and Compliance (Legal GRC) requirements. Their Legal GRC software is the only

comprehensive platform that automates the complex interconnections of privacy, legal operations, digital investigations, cybersecurity response, compliance, and information governance.
Thousands of legal teams around the world in corporations, law firms, government, and law enforcement agencies trust their integrated Legal GRC platform to manage their risks and drive successful outcomes at a lower cost.
ADF and Exterro have collaborated to enable Exterro customers to effectively address the many difficulties associated with smartphone data collection and compliance, leveraging ADF Solutions' Mobile Device Collector™ solution. Data collected from iOS and Android devices using ADF Solutions tools can be imported into Exterro's E-Discovery and FTK® investigative solutions, including Exterro Legal Hold, Exterro E-Discovery Data Management, Exterro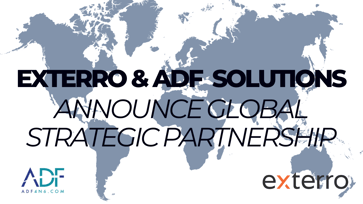 Review and Exterro FTK® Enterprise, offering one-of-its-kind data review for our joint customers.
This revolutionary solution from Exterro and ADF Solutions leverages best-of-breed technology designed to speed data collection at the edge and make it easy for Exterro customers to quickly preview, screenshot, and screen record evidence in addition to a traditional backup. Together, the companies will give customers consistently faster access to the facts of a matter on a cost-predictable basis.