Solve Child Exploitation Cases starting on-scene
In today's digital age, child predators have ready access to our most innocent citizens. With child exploitation task forces and focused high tech crime units deployed worldwide, law enforcement faces the daunting task of responding to internet crimes quickly. Today's investigators respond to CyberTips and work quickly to determine if they need to confiscate devices, take a suspect into custody, and identify any and all victims.
ADF works with Project VIC and CAID data to speed investigations starting from on-scene investigations to back in the forensic lab and ADF software allows for auto and manual tagging for quick, thorough court-ready reporting which can be shared with other investigators and prosecutors even if they don't have ADF software.
In this 1-hour recording, our Digital Forensic Specialist, Rich Frawley, will talk you through Child Exploitation investigation best practices.
Investigating Child Exploitation Cases (On-Demand)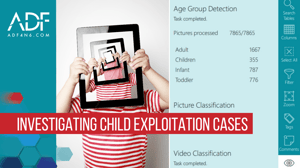 Mobile phones have changed the way children are exploited and computers are still a problem in the continuing fight against child exploitation. With the proliferation of Child Sexual Abuse Material (CSAM) today, investigators must use technology for good in the fight against child exploitation.

ADF empowers front-line field investigators and lab examiners to respond quickly to CyberTips so they can work quickly to confiscate devices, take a suspect into custody, and identify any and all victims. ADF investigation tools include:
Project VIC / CAID capabilities
Automatic and manual tagging of CSAM
Facial Analytics & Age Recognition
Built-in and Custom Search Profiles
Instant Mobile Preview
Screenshot Mobile Phones with OCR Text Analysis
Report customizations to Sanitize for Court or Prosecutors
Audience: This webinar is designed for prosecutors, forensic examiners, and investigators who want to learn how to speed investigations of child exploitation cases in the field or in the lab.