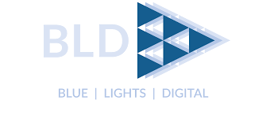 ADF Authorized Partner, Blue Lights Digital is a leading digital investigation and intelligence capacity-building company based in the UK. The company provides capacity building and support for complex international investigations, assists law enforcement, intelligence agencies, and military agencies to grow their digital forensics and intel capabilities.
Specializing in work with UK law enforcement agencies and military partners, Blue Lights Digital provides end-to-end services for digital investigations to:
assist clients to understand their capacity-building needs by providing discovery consulting and tailored assessments
help design technological improvements and training requirements to ensure successful implementation
provide continuous reporting to demonstrate progress, working with clients to refine implementation to maximize benefits
In 2020, Blue Lights Digital worked closely with the Home Office Communications Capabilities Unit (CCU) to identify ways to deliver training during the COVID-19 pandemic. Blue Lights Digital designed, hosted, delivered, and facilitated virtual training sessions and briefings to law enforcement and investigative specialists for CCU via a secure platform. The company adapted the delivery of essential training for the law enforcement community to ensure it was suitable for virtual delivery and, to date, have trained over 2500 delegates through this medium during lockdown.
Blue Lights Digital recognizes that, to meet the everchanging face of digital and cybercrime, specialists need access to support resources immediately. Specialists also need to continually craft their skills in line with new policies, operating procedures, and systems, ensuring they meet their organization's needs as well as international standards.
Blue Lights Digital provides relevant and current digital investigation and intelligence training across law enforcement, including to the Metropolitan Police and National Crime Agency. Our courses enable participants to gain and maintain knowledge and skills around legislation, emerging techniques, technology, products, and tactics to ensure they are fully equipped to lawfully exploit digital opportunities in investigations and intelligence gathering operations.
Due to our expertise within the digital investigation and intelligence arenas, we are the learning provider for the Home Office National Law Enforcement Data Service Programme and the International Communications Data and Digital Forensics Programme.
Blue Lights Digital
The Officers Mess
Duxford
Cambridgeshire
CB22 4QH
+44 01223 919607
---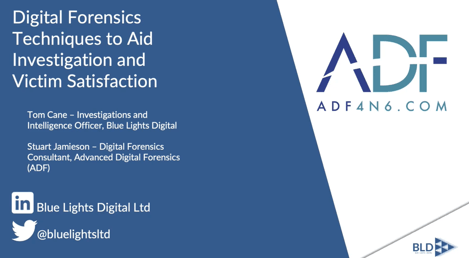 Join Tom Cane, Investigations and Intelligence Officer with Blue Lights Digital, and Stuart Jamieson, Digital Forensics Consultant with ADF Solutions. This webinar is focused on victims and how triage tools and the use of intelligence can assist in speeding up investigations and improving the quality of investigations.
A