Learn how to conduct an initial investigation quickly based on its scope using digital forensic triage.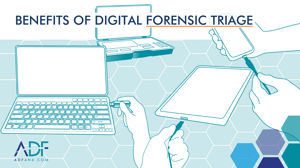 The benefits of triage? Just think; if 90% of cases can be solved with 10% of the data, you have an opportunity to quickly identify and protect victims, determine suspects, and even solve your case early. Learn how triage allows you to prioritize evidence, make decisions on the need for a further deep dive into the data, or just to gain peace of mind, based on the facts.
ADF empowers front-line field investigators and lab examiners to investigate on-scene or in the lab to quickly preview evidence on-scene, seize the appropriate devices, take a suspect into custody, identify any and all victims and prioritize devices in the lab. ADF investigation tools include:
Audience: Law enforcement leaders, investigators, digital media investigators, forensic lab examiners and anyone interested in triage, digital evidence, or digital forensic workflows to reduce forensic backlogs.