TRIAGE-G2® PRO CERTIFIED Training from fiu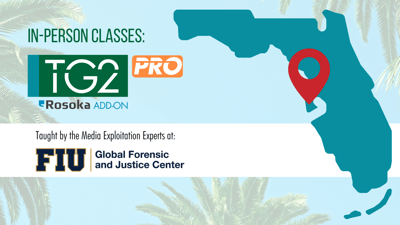 ADF and Florida International University have teamed up to design and deliver digital forensics training to professional learners who desire to learn digital forensics in an in-person from experienced instructors.
ADF and FIU have had a longstanding relationship through the National Forensic Science Technology Center (NFSTC). Teaming up to bring investigators a great learning experience based on the robust capabilities of Triage G2 PRO, will give learners the unique experience to leverage the combined industry expertise of FIU and ADF in a single classroom experience.
Triage-G2 PRO Certified User training is designed to equip both technical and non-technical professionals with the knowledge and skills they need to use TG2 PRO for media exploitation to immediately extract conclusive intelligence and evidence from cell phones, mobile devices, computers and digital media.
---
Learn media exploitation: FIU COURSE OUTLINE
Florida International University offers a 2-Day hands-on, instructor-led professional training for Triage-G2® PRO (TG2 PRO). Trainees in this forward operator forensic triage and media exploitation training will learn how to configure Triage-G2®, operate the software and interpret results.
Introductions & Getting Started
Digital Forensic Triage and Media Exploitation Basics
Overview of How to Use

Triage-

G2®

Triage-

G2® Terminology – Artifact Captures

Triage-

G2® Terminology – File Captures

Triage-

G2®

Search Profiles – Quick, Intermediate, and Comprehensive

Triage-

G2®

Workflow
Setup & Installation
Triage-G2

® software installation and the Windows Assessment and Deployment Kit (WADK)
Booting and BIOS
Accessing BIOS/UEFI Setup
Accessing Boot Menu
UEFI and Fastboot Issues
Booting Apple Macintosh computers
Capture: Conducting a Scan
Case Study: Scanning attached media
Case Study: Scanning drive images
Case Study: Carrying out a boot scan
Case Study: Carrying out a live scan
Analysis: Navigating Triage-G2
Navigating Capture Results
Understanding Picture, Video, Keyword, Files and Timeline Views
Column Settings
Filtering Captures and Picture, Video, Keyword, Files and Timeline Views
Tagging
Commenting
Reporting
Case Study: Creating appropriate reports
Reporting - HTML
Reporting - CSV
Reporting – Stand-alone viewer
Imaging
Advanced Issues
Importing Search Profiles
Implications of thorough file identification and searching within containers
File type creation and implications
Searching browser cache issues
Case Study: Knowledge check
PRO Module: Mobile Device Investigator
Overview and terminology
Connecting a mobile device
Preview Mode
Conducting a scan

Taking Screenshots
Search Profiles
Creating backups

Creating Mobile Search Profiles
Analyzing Mobile Evidence
PRO Module Final Exam
Triage-G2 PRO online training is a Digital First Responder® Training class available for teams of all sizes and is designed for professionals performing digital forensic triage or sensitive site exploitation.