Gather Digital Intel: Try ADF Triage-G2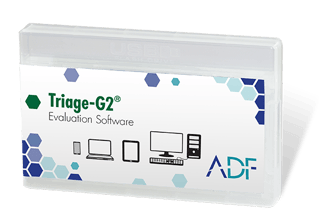 Triage-G2® now with Rosoka Entity Extraction and Gisting capabilities is DoD approved for intelligence to support expeditionary special operators which provide tactical and operational level forensic technical exploitation capabilities to forward deployed forces. Make ADF Triage G2 the baseline lab kit to support your site exploitation needs.
The Triage-G2® Software Evaluation Kit includes:
Full-featured 30 Day ADF Triage-G2® License

High speed 8 GB USB device

Getting started links

Access to support during your trial
Triage-G2® is designed specifically for non-technical military operators with a simple 2-step process to rapidly scan, extract, and analyze critical intelligence from computers and digital devices.
ADF software is deployed in biometric identity management kits for reconnaissance on a rugged, portable USB key.
Qualified professionals may request a free Triage-G2 license trial by submitting the request and verification form.