ADF PLEDGE
1%
ADF Solutions 1-1-1 Philanthropy Model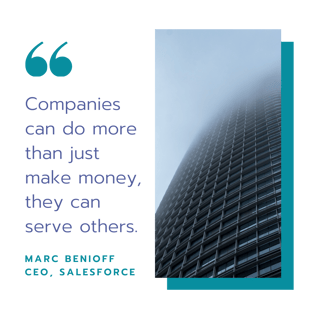 The Pledge 1% movement is a global program that encourages and empowers companies of all sizes and at all stages of their growth to donate one percent of their equity, time, product, and/or profit to any charity of their choosing.
This movement was spearheaded by Salesforce, who pioneered the 1-1-1 Model of Integrated Philanthropy in 1999, laying the foundation for Salesforce.org and encouraging companies to harness their resources to give back to society. Marc Benioff, CEO of Salesforce, had a simple vision: just imagine if every person across every organization in the world gave just one percent back to society. Imagine what an impact that could make.
ADF has adopted the Pledge 1% model of integrated philanthropy because it aligns closely with our culture. The work we do has impact every day and giving back is simply a way we can further positively impact the communities we serve near our headquarters and around the world.
Here's how ADF has committed to Pledge 1%:
1% Time - We encourage each employee to give back one percent of their time to philanthropy which equates to about 20 hours a year volunteering or giving back to their community.
1% Product - We provide software and discounts to qualified organizations that need, but may otherwise not be able to afford, ADF digital forensic software to solve crimes in their community.
1% Resources

- We provide resources to programs that could benefit from our help or need our support, such as school and university programs, and mentor projects.
Serving Our Community and Those Who Serve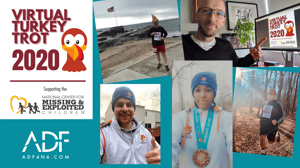 Anti-Human Trafficking Intelligence Initiative (ATII): As part of ADF's commitment to #StopHumanTrafficking, ADF partnered with the ATII. Working together we've helped empower the ATII team to deeply understand digital forensics and the value of the data they create in helping frontline law enforcement with Anti-Human Trafficking Search Profiles.
National White Collar Crime Center (NW3C): Through our partnership with NW3C, ADF provides the organization's nearly 100,000 members savings on digital forensic products and ADF Certified User Training.
International Justice Mission (IJM): ADF is partnered with the IJM to help stop human trafficking, labor trafficking and Online Sexual Exploitation of Children (OSEC) in Africa, Asia and Europe.
SPARK 101: ADF worked with the 114th Partnership to promote the benefits of STEM education in middle and high schools by showcasing the benefits of careers in forensic science. Partnered with Rosoka Software, our two companies worked with the 114th team to create Spark 101 videos that provide lesson plans, classroom learning opportunities, and information on pathways toward STEM careers in software development and forensic technology.
IACIS: ADF digital forensic specialist and trainer, Rich Frawley, serves as a mentor for the International Association of Computer Investigative Specialists (IACIS), where he oversees a program of volunteers that serves dozens of students every year. IACIS is considered the world's leader in digital forensics training and certification and Rich gives back monthly to help train and facilitate conversations in the digital forensics space. Rich, among others on our team throughout the world, makes a positive impact by promoting the field of digital forensics and sharing his knowledge with students and professional learners.
Project VIC: ADF promotes and supports the work of Project VIC, the coalition of law enforcement and private sector organizations helping identify and rescue children from sexual exploitation. The Project VIC Cloud securely process and combines millions of data signatures related to images and videos that are being seized from the field.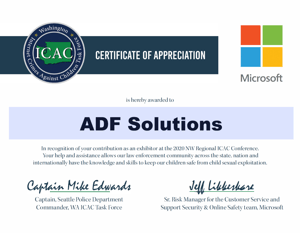 NW ICAC: The Northwest Internet Crimes Against Children conference is an annual event sponsored by the Seattle Police Foundation and is focused on providing police training and learning opportunities to law enforcement professionals in the Pacific Northwest at the front lines fighting child exploitation and cybercrimes against children.
NLETC: ADF Solutions regularly provides hands-on digital forensics training to officers attending the National Law Enforcement Training Center annual training events in Atlanta, Georgia.
United Way: ADF has provided specialized training to members of the United Way LEAD program, a worldwide network of LEADers from communities across the United States and around the world.