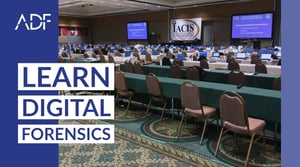 This week, ADF is sponsoring training for companies and law enforcement agencies that seek to train individuals and teams on computer forensic training.
Rich Frawley, one of our resident digital forensic specialists, is participating as a gold sponsor of the event held by The International Association of Computer Investigative Specialists, more commonly referred to as IACIS.
Rich has served as an IACIS trainer following his service to the Milford Police Department in Connecticut.
>> Read the Forensic Focus Interview with Rich Frawley
"IACIS has been providing computer Forensic Training for over 27 years. IACIS instructors and trainers are Certified Forensic Computer Examiners (CFCE) and are active in the field of computer forensics." The goal of this week's IACIS training is for students to engage in hands-on learning with practical exercises and dive deeper into computer forensic theory.
Since there are no pre-requisites for the IACIS Basic Computer Forensic Examiner (BCFE) training, the class is typically attended by law enforcement, university police and security officers, and corporate fraud and audit specialists.
There are Seven (7) competency areas addressed in the Certified Forensic Computer Examiner (CFCE) Program:
Pre-Examination Procedures and Legal Issues

Computer Fundamentals

Partitioning Schemes

Windows File Systems

Data Recovery

Windows Artifacts

Presentation of Findings
During the training, ADF is raffling off several copies of Digital Evidence Investigator software as well as a hand-made by combat veterans Flag of Valor for one lucky winner. Attendees and friends of ADF can save 10% on any Flag of Valor by entering the code "ADF" in checkout.