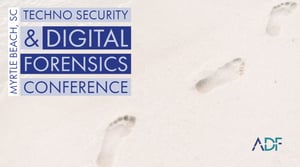 This week, hundreds of cyber security and digital forensic experts gathered in Myrtle Beach, South Carolina to participate in the Techno Security and Digital Forensics Conference. The event hosted at the Marriott Resort & Spa at Grande Dunes offered attendees the ability to receive Continuing Professional Education Credits (CPE) depending on their organization.
The event featured a keynote address titled "Artificial Intelligence and the Future of Cybersecurity" by Roman V. Yampolskiy, futurist/author/professor at the University of Louisville. The three-day conference was attended by cybersecurity and digital forensics leaders, Law Enforcement Agencies planning to form High Tech Crime Units (HTCU), CIOs, CISOs, COOs and others in the digital security space including:
Audit/Risk Managers and Internal Auditors
Certified Information Systems Security Professionals (CISSP)
CIOs, CISOs, COOs
Contingency Planners
Corporate Attorneys
Corporate High Tech Crime Investigators
Digital & Mobile Forensic Investigators
Disaster Recovery Managers
Forensic Analysts, Fraud Examiners & Investigators
Information System Auditors and Security Analysts, Directors and Managers
Law Enforcement Crimes Against Children Investigators
Law Enforcement High Tech/Cyber Crime Investigators
Law Enforcement White Collar Crime Investigators
Network Engineers & Security Architects
Physical Security Directors & Managers
Private Investigators
Social Media Intelligence Consultants
Solutions Architects & Engineers
Telecommunications Directors & Managers
ADF Solutions returned to the event as a Gold Sponsor and was attended by ADF leadership and digital forensic specialists. The conference topics featured content on Audit/Risk Management, Forensics, Information Security, and Investigations. ADF showcased Digital Evidence Investigator, and enabled interested conference attendees to receive a free trial of DEI for forensic investigations on-scene or in forensic labs. The conference featured over 100+ cyber security and digital forensics sessions and more than 50 sponsors and exhibits.