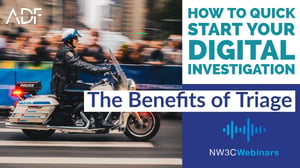 Join ADF Solutions for a webinar hosted by the National White Collar Crime Center (NW3C), a nonprofit, membership-affiliated organization comprised of state, local, federal and tribal law enforcement and prosecutorial and regulatory agencies.
NW3C provided a nationwide support system for law enforcement and regulatory agencies involved in prevention, investigation and prosecution of economic and high-tech crime. Support is delivered via training in computer forensics, cyber and financial crime investigations and intelligence analysis as well as original research on and analytical technical support for investigating and prosecuting white collar and related crimes.
The Benefits of Triage: How to Quick Start Your Digital Investigation
Participants will learn the art of digital forensic triage and how to conduct an initial investigation quickly based on the scope of the investigation you are about to conduct.
If 90% of cases can be solved with 10% of the data, let's get to that point early and make decisions on the need for further deep dive, due diligence, or peace of mind examination of devices based off facts.
The NW3C webinar was led by ADF Digital Forensic Specialist and Trainer, Rich Frawley who will took participants through a typical investigation to demonstrate the speed, accuracy, and best practices for using triage in the field or in the lab. Here's a recording of the digital forensic triage webinar which was recapped by Rich.