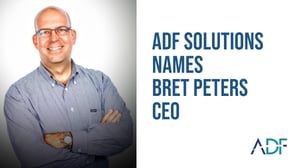 Bethesda, Maryland: ADF Solutions, the leading provider of intelligent forensic software for investigators and lab examiners, today announced Bret Peters has been appointed Chief Executive Officer of ADF Solutions. The ADF Board of Directors unanimously voted to appoint Bret Peters to the position of CEO based on his demonstrated leadership and vision for the company. Bret has also been elected to the ADF Board of Directors.
ADF Co-Founder, J.J. Wallia will continue to serve as ADF's Chairman of the Board and will transition to the role of Chief Evangelist working with key global accounts and evangelizing digital triage, which ADF has pioneered and led.
"As ADF continues to transform its business to expand and capture more front line investigators with Mobile Device Investigator, the board concluded that Bret is the right leader to drive ADF into its next era of growth," said Chairman J.J. Wallia. "In addition to the outstanding performance Bret delivered as Director of Sales and Marketing during his tenure, his knowledge of the business and command of our growth strategy confirmed he is the right candidate for this position."
"I was honored to be asked to lead ADF in our future growth as we move into 2020 and beyond," stated Bret Peters. "As the volume of digital data continues to rise exponentially, the ADF team is committed to innovating and creating best of breed solutions to serve and delight our customers. I am excited to continue to work alongside the ADF team members and partners who strive to deliver excellence every day."
More: Prior to joining ADF, Bret served as Chief Marketing Officer and VP of Sales and Marketing for a private software company closely partnered with Google, Adobe, Amazon, HubSpot, and Salesforce and served as Product Manager of FlashNotes Software, a SaaS based collaborative note-taking application. Bret has served on the HubSpot Customer Advisory Board and is an Adjunct Professor at Georgetown University CCPE, where he teaches courses in customer strategy, business development, and product marketing. Bret holds degrees in Criminal Justice/Law Enforcement Administration and Administration of Justice.
About ADF Solutions, Inc. ADF Solutions is the global leader in automated digital forensic software for digital investigations. ADF tools streamline digital investigations, reduce forensic backlogs, and provide digital evidence results and intel from iOS and Android smartphones and tablets, as well as computers, external drives, drive images, and other media storage devices. ADF software products include Mobile Device Investigator™, Digital Evidence Investigator®, Triage-Investigator®, and Triage-G2®.