ADF Solutions is proud to announce that we have joined forces with Carahsoft, the leading government IT Solutions provider as an authorized reseller of our products.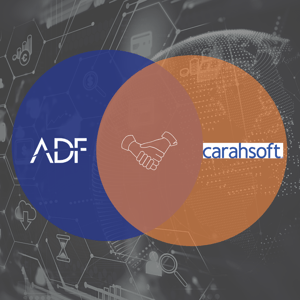 Carahsoft is considered to be a master U.S. government aggregator and distributor for the industry's leading manufacturers. We are proud to work with them because like us, they pride themselves on being a customer-centric organization dedicated to serving the needs of their customers, end users, and manufacturers.
Carahsoft is a valuable partner throughout the United States due to their extensive technology experience and thorough understanding of government procurement. Working closely with customers, they analyze needs, provide configuration support, simplify the ordering process, and offer special government pricing.
"Carahsoft has built a strong reputation of serving local, state and federal government agencies", stated Bret Peters, CEO of ADF Solutions. "We are delighted to work with Carahsoft to extend our field forensic software to communities and agencies throughout the United States so they can solve investigations faster and reduce forensic backlogs."
ADF Solutions offers mobile and computer forensic triage tools that are used for processing and analyzing Android/iOS smartphones, mobile devices, computers, external drives, drive images, and other media storage such as USB flash drives, memory cards, and more.
ADF triage software is all about speed, scalability, ease-of-use, and relevant results. The tools have a proven track record in reducing forensic backlogs, streamlining digital investigations and rapid access to digital evidence and intelligence. Our customers include federal, state and local law enforcement agencies, military and defense agencies, Office of Inspector General offices, Attornies General, prosecutor, and other investigative professionals worldwide.
ADF Solutions looks forward to continuing to serve our government end users and customers with this technology partnership. Learn more about Carahsoft here.