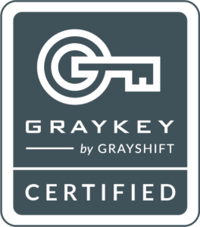 Grayshift has announced that ADF Solutions is a Certified member of Grayshift's Technology Alliances Program, a digital forensics ecosystem that facilitates open, multi-vendor integration and certifications to improve the effectiveness of digital investigations tools. The program ensures that partner tools:
Fully and accurately parse GrayKey extractions
Improve cross-product workflows
Explore integrations aimed at accelerating investigations
The partnership between ADF Solutions and GrayShift is designed to give law enforcement agencies confidence that they can expect accuracy in ingesting and displaying data from GrayKey extractions to speed investigations.
What the Grayshift Partnership Means for ADF Customers
Most forensic examiners have numerous digital forensic tools in their forensic labs. Examiners and Investigators that have access to GrayKey can now load Graykey extractions into ADF Solutions tools to rapidly analyze and report on evidence. This is particularly important in circumstances where investigators are working on time-sensitive cases, or where they may benefit from ADF's easy-to-use court-ready reporting capabilities.
Using GrayKey Extractions within ADF forensic tools
ADF users can now load a GrayKey extraction into ADF mobile phone forensic software including Mobile Device Investigator, Digital Evidence Investigator PRO, Triage-Investigator PRO, or Triage-G2 PRO thereby extending ADF's reach to exploited devices.
ADF and GrayShift Use Cases
In situations where a GrayKey extraction exists and there is a need to speed an investigation, such as in the case of
Counterterrorism Investigation
Mass Casualty Event
Homicide Investigation
A GrayKey extraction can be loaded into ADF tools with the click of a button. Viewing a full extraction within ADF enables an investigator to access additional information that may become available with full mobile extraction.
Rapid Court-Ready Reporting
With ADF's shareable reporting, prosecutors and additional investigators do not need a license when the report is shared by an ADF user. The originating user can quickly create and share reports using ADF's platform which can be of vital importance in cases such as those involving child exploitation where an investigator needs to present findings in court without re-victimizing the subject of the photo or shocking the sense of the viewer of the report while still presenting a professional report that reflects the properties required to advance the case.
There are many properties that are presented to the user that not only tell the story but also assist the investigator or examiner as they put the case together to share details from a forensic perspective. Not all properties need to be shown in a finished forensic report, and certainly not the inappropriate exploitation images, however, the report still has to be complete and ready and supportive of the testimony you may have to provide in court.