Nearly 1,000 homicide investigators from across California gathered this week at the 51st annual California Homicide Investigator (CHIA) Conference in Las Vegas, Nevada. The 3-day training event, sponsored by ADF, featured case presentations and investigator training from leading prosecutors and investigators.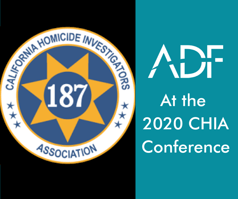 The annual learning and networking event for individuals from California and other Western states and is attended by professionals that include:
Homicide Detectives
Crime Scene Investigators
Prosecutors
Death Investigation Professionals
Chiefs of Police
Sheriffs
As a sponsor of the event, ADF showcased Digital Evidence Investigator® PRO, which enables crime scene investigators to quickly collect digital evidence from laptops, computers, iOS and Android phones, and other digital devices while on-scene.
Starting digital evidence collection and analysis at the scene of the crime enables law enforcement to solve murders beginning in the field before the trail turns cold. Since most crimes today involve digital evidence, being able to leverage forensic triage tools to scan and analyze phones, computers and digital devices can help speed the identification of suspects and additional victims.
Simple Triage: Triage and seize any digital devices used in a homicide case from a crime scene or person, and place seized evidence in the correct order for examination based on content.
Early Case Assessment: Collect relevant homicide data quickly to continue your investigation while the devices have a more comprehensive exam conducted.
Comprehensive Exam: Complete a comprehensive examination in just hours to allow investigators to analyze and determine relevance of data on a given device.
File Collection:

Target specific directories or file types for mass collection.
Additionally, if investigators uncover digital evidence in foreign languages, the ADF Rosoka Add-on capabilities will allow the operator to perform entity extraction and multilingual translation in over 230 languages, something that can be especially powerful in furthering the investigation early on in the process.