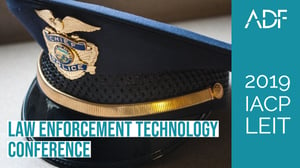 This week, nearly 1,000 law enforcement professionals from across the United States and around the world are meeting in Jacksonville, Florida for to discuss and discover new technologies designed to promote public safety, police safety and policing techniques.
The International Association of Chiefs of Police (IACP) Law Enforcement Technology Conference (LEIT) was opened by Mike Williams from the Jacksonville Sheriff's Office who introduced keynote speaker Harold Arm from INTERPOL. The event is being attended by nearly 1,000 law enforcement professionals who desire to learn best practices for utilizing new technology in policing. Session topics include:
Responding to disasters with integrated technology
Preparing for a cyber attack
Utilizing advanced GPS technology to address crime trends
IoT security for public safety
Accessing the impact of AI and policing best practices
Investigating child sex trafficking in a post-backpage world
Drone cops: law enforcement use of small unmanned aircraft systems
Managing diverse collections of visual data
Mobile forensics data and advance app analysis
Serving cybercrime victims
Understanding the value of digital evidence
Saving lives and solving crime with speech to text transcribe and translate technology
Top 10 digital evidence management challenges and best practices
Investigations impacted by social media - how to make more of digital evidence
How small towns can use technology to enhance crime-fighting tactics
Intel-led approach to reducing gang violence
Investigating technology-facilitated domestic violence & sexual assault
Tor, Onion Routers, Deep Net, and Dark Net: A deep dive for criminal investigators
Police, sheriffs, constables, investigators and other LE professionals (local/state CTOs/CIOs, crime analysts, IT managers, patrol officers, etc.) at the conference are exploring the ways law enforcement agencies can learn best practices from one another and utilize new technologies to combat the ever increasing and ever sophisticated cyber crimes.
ADF is the maker of leading forensic tools for iOS, Android, computers, external drives, drive images, and other media storage (USB flash drives, memory cards, etc.). ADF software has a proven track record of reducing forensic backlogs, streamlining digital investigations and providing rapid access to digital evidence and intelligence. Qualified professionals can request a free trial at www.TryADF.com.