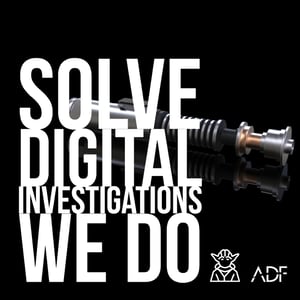 A long, long time ago in a galaxy far far away
(2006 to be exact and the galaxy was Maryland USA)
It was a period of innovation.
Computers, USBs, all kinds of devices ...
Some people were committing digital crimes
from their seemingly hidden bases in the digital world.
The need for evidence was great
and a company named ADF Solutions was formed,
to develop and patent specific methods
of digital evidence collection to
empower investigators with intelligent tools
to collect evidence.
Challenged by the constant proliferation
of digital data, ADF continued to innovate ...
developing easy-to-use digital forensic software
that non-technical users can utilize to solve
investigations to prosecute offenders
and protect the galaxy.
From all of us at ADF Solutions ... #Maythe4thbewithyou