You first met LEO in September 2018 when ADF shared an announcement about the upcoming Crimes Against Children Conference in Dallas, Texas. We came up with the idea of LEO one day when our team was sharing stories about the many successes our Law Enforcement customers were having using our digital forensic software to quickly solve crimes.
With so many of our customers using ADF software to triage computers while investigating crimes against children cases, we discussed the idea of creating a mascot that represented the law enforcement officers that we have the honor of serving. Law Enforcement Officers sometimes refer to themselves as LEOs for short and as we thought about LEO it brought to mind the majestic lion.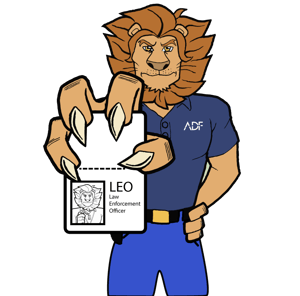 Since we were preparing to head to numerous Internet Crimes Against Children task force (ICAC Task Force) conferences we thought it would be great to showcase our new mascot, LEO, at these upcoming conferences dedicated to helping stop the proliferation of Child Sexual Abuse Material (CSAM).
Police, sheriffs, constables and other law enforcement agents tend to have a "lion attitude". They are courageous and brave. LEOs stand up for what they believe in and they ferociously protect their communities. This is true for those officers, agents, and investigators that have dedicated their lives to help fight cybercrime through digital forensic investigations.
Attending conferences is one of our favorite things to do. We get to gather together with LEOs from the U.S., Canada, U.K., Australia, Europe, India, Africa and around the world. When lions gather together, the group is called a pride - something that resonates with us and the great work that LEOs do as a team.
In today's world, it's a digital jungle out there. For LEOs to remain the king of the jungle, it's up to us to take pride in our work creating the best digital forensic software we can to help them continue to safely serve and protect their communities.