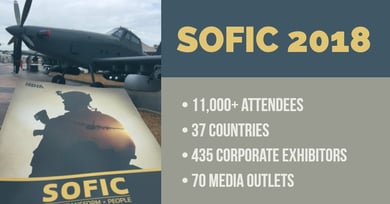 Last week, leaders from the military, special operations and industry gathered together in Tampa, Florida for the 2018 Special Operations Forces Industry Conference (SOFIC) and Exhibition. The event, sponsored by the National Defense Industrial Association (NDIA) emphasized the USSOCOM Commander's vision to "Win - Transform - People" and was joined by international military members from US partner nations.
The 4-day conference was attended by:
11,000+ attendees
37 countries
435 corporate exhibitors
70 media outlets
ADF participated in the Exploitation Pavilion with the National Forensic Science Technology Center (NFSTC) which recently joined forces with Florida International University to broaden the impact of forensic science. NFSTC brought together the best forensic science and exploitation companies under one banner so military leaders could quickly and easily find the most effective ways to solve challenges to win the current fight, identify equipment for future threats and provide force protection for our military's greatest asset - our people. The Exploitation Pavilion consisted of:
At SOFIC, ADF was promoting Triage-G2, our intelligent document and media exploitation software which is an essential component of identity operation kits used by forward operators.
Triage-G2 requires minimal training so it can be easily deployed to field operators and the software features a 2-step process for rapid digital document and media exploitation.
The highlight of the conference was the Special Operations Capabilities Demonstration, a mock hostage rescue by international special operations forces.