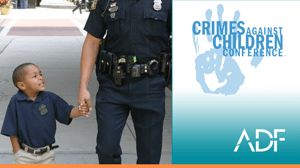 ADF is helping stop crimes against children by providing law enforcement with the right tools and training to combat internet crimes against children. As part of our mission to help fight child exploitation, ADF is a returning sponsor of the Crimes Against Children Conference. If you are attending, join ADF Digital Forensic Specialists (Rich Frawley), as he leads a lecture and lab training for participating law enforcement officers:
On-Scene Digital Investigation Best Practices: From CyberTip to Court Ready Paperwork (Lecture)
Solving Crimes Against Children with ADF Digital Evidence Investigator® (Hands-on Labs)
Each participant will learn digital forensic best practices for child exploitation cases and receive an extended trial of our DEI software.
The Crimes Against Children Conference is held annually in Dallas, Texas and is organized by the Dallas Children's Advocacy Center, an organization dedicated to reducing the re-victimization of the child in partnership with dozens of Texas Police Departments and Sheriff's offices.
John Walsh, host of America's Most Wanted and The Hunt with John Walsh, will be the conference keynote speaker. Wash and his wife founded the National Center for Missing and Exploited Children, a non-profit to help find missing children and prevent child victimization.
According to the US Bureau of Justice Statistics, "The annual number of persons prosecuted for commercial sexual exploitation of children (CSEC) cases filed in U.S. district court nearly doubled between 2004 and 2013". Since then, the Internet has become more prevalent and the advent of smartphones has increased making it easier for abusers to connect with children and giving perpetrators a sense of anonymity.
ADF software is automated to enable law enforcement to rapidly investigate child exploitation cases beginning on-scene as well as back in a forensic lab. ADF's professional investigator software, Digital Evidence Investigator® and Triage-Investigator® leverage the Child Abuse Image Database (CAID) and Project Vic hash sets to speed image identification and classification thereby making it easier for ICAC investigators to identify and safeguard victims.
Learn more about Digital Evidence Investigator® and Triage-Investigator® or contact ADF to get request a demo or discuss your agency's needs.