Earlier this year, ADF partnered with Flags of Valor, a company dedicated to serving U.S. military and law enforcement with high quality, handmade wooden wall art. Flags of Valor was founded to provide job opportunities to combat veterans and today the majority of Flags of Valor craftsmen are service-disabled with combat related injuries.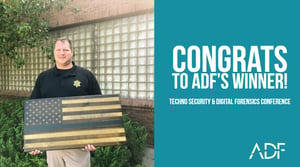 At trade-shows and conferences in the United States, ADF has proudly displayed versions of the Flags of Valor flags including "The Front Line" honoring the men and women of the U.S. Military and the "Thin Blue Line" honoring those that serve and protect U.S. communities in law enforcement.
"We are proud to partner with Flags of Valor to promote the great products that CEO, Brian Steorts and his team are bringing to market" said Bret Peters, Director of Marketing for ADF Solutions. "We are closely aligned in the desire to honor individuals and families that serve and protect communities."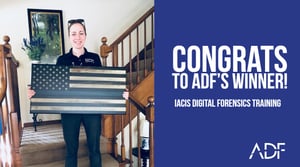 ADF has held a drawing at each of the U.S. trade shows and conferences the company has supported. From the National Cyber Crime Conference and IACIS Digital Forensic Training, to the Techno Security and Digital Forensics Conference and the National Law Enforcement Training on Child Exploitation conference.
Pictured are a few of our lucky recipients: Lt. Wells of the Horry County Sheriff's Office, Detective Styn of the District Attorney's Office of Erie County Pennsylvania, and Detective Bounds of the Boon County Missouri Sheriff's Office. Congratulations to these fine public servants!
"We're delighted to learn that many recipients choose to display their wooden flag in their digital forensic lab, or prominently in their office" stated Bret Peters. As part of the partnership, ADF is also promoting the use of code "ADF" at checkout on the Flags of Valor website to save 10%.