We at ADF are always proud to showcase our partners from around the world and introduce their unique perspectives on digital and cyber forensics. We are proud to highlight and share the thoughts of one of our newest ADF Partners, Cindy Vazquez at DG Forensiks in Mexico City, Mexico.
Cindy Vasquez has more than 10 years of experience in the field of digital forensics and is the founder and owner of DG Forensiks. She founded DG Forensiks in 2015, and it is now one of the leading digital forensics and digital intelligence resellers in Mexico, primarily servicing and providing tools to different branches of the Mexican Government, including law enforcement and the Mexican military.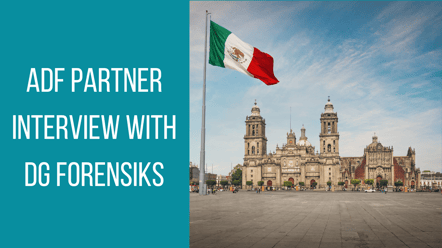 Cindy began her career after business school working in finance and procurement at a large company; however, she found that her heart was not entirely there. After a few years, she moved on to a different company that focused on intelligence, counterintelligence, and the cyber defense market and worked mainly for the government. It was there where she discovered talents hidden within herself and learned how to manage relationships with her suppliers. Cindy then began her career in digital forensics in 2011. She believes that what makes her company stand out is that her company does not just help their clients find the most suitable tools at a reasonable price, but also tries to solve their issues and is available to answer questions at any time. Service is key to her business and she believes that her attentiveness to her customers helps set her apart from the competition.
Cindy and her team at DG Forensiks have great insights into digital forensics for law enforcement and are seeing many trends that she knows will be important in 2022 and in the future for law enforcement professionals. When talking to customers, she is regularly facing these concerns and questions from them:
Long backlogs of cases - Departments do not have enough investigators or high-capacity workstations to process the evidence quickly and accurately.
Man-hours and the slow speed of processing evidence - Departments get bogged down with too many cases and little time to process the evidence that could be found better and faster using more advanced technology.
Lack of training - Sometimes customers order tools but they do not get a budget for training, so they cannot use the tools to their maximum potential.
Lack of specialization in digital forensics - Personnel belong to different units and are not trained for or used to perform digital forensic extractions or analyses.
Cindy has noticed that as law enforcement budgets begin to get tighter, agencies in Mexico are starting to change how they spend their limited funds. For example, agencies are procuring tools for their departments but are not purchasing training for the tools as well, which leads to issues later on when utilizing tools on scene. DG Forensiks usually helps them by suggesting the best tools for their activities and gaining an understanding of their work to make sure her team understands their clients' activities and challenges. Once DG Forensiks gets all the information they need, they are then able to suggest the best tools for their client and offer training with the tool; this way the client does not have to wait for another authorization to use their budget.
In addition to shifting budgets and tighter constraints, Cindy and her team are noticing the demand for mobile forensics and remote acquisition tools is still increasing. Even though smartphones have been around for years, DG Forensiks is still coming across customers that are behind on the trend and are just beginning to update and expand their resources in mobile forensics.
Due to the current global pandemic, DG Forensiks is not hosting any conferences in the near future. Cindy is hoping to be able to hold their annual Digital Forensic Event in 2022, where DG Forensiks can work with key people from the Federal and State governments as well as Private Companies. It is an excellent event in Mexico City where clients and potential clients can learn from digital forensics experts. DG Forensiks also invites their partner brands to come and present products and talk about subjects that are of interest to the investigators in Mexico.