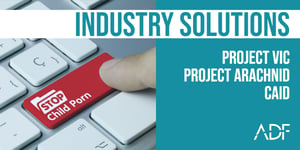 Of all the investigations that a law enforcement agency may undertake, there may be none as difficult to deal with as crimes perpetrated against minors. The proliferation of online child exploitation material continues to be an issue worldwide, from child pornography to the facilitation of human trafficking. Luckily, investigators are not having to combat this problem alone thanks to industry solutions like those provided by ADF Solutions and the organizations below.
Project VIC
The perpetrators of child exploitation were quick to adapt to the internet age, using the web to distribute materials as well as to maintain contact with minors. The so-called Darknet provides a network for offenders to connect with one another in a secure online environment. Investigating these sites and other distribution methods requires advanced technology. Project VIC brings law enforcement together with private sector partners to develop new investigative tools and victim-identification technologies. The VICS, or Video Image Classification Standard, allows investigators to quickly recognize if seized images are new or shared, letting them devote resources in a smarter way to identify and track new victims. By leveraging the latest technology with law enforcement's skills and knowledge, Project VIC has contributed to a dramatic increase in successful victim identification and recovery.
Project Arachnid
In 2002, the Canadian Centre for Child Protection started a tip line for anonymous witnesses to provide information about instances of online child exploitation. Recognizing a growing trend in incoming tips, in 2016 the Centre developed Project Arachnid to continuously monitor sites reported to the hotline and notify service providers when child sexual abuse material is being shared. The developers are continuing to update the CSAM program (Child Sexual Abuse Material) to make it more proactive in detecting harmful materials and to expand its scope further with an API which will enable industry to speed detection and removal of harmful material.
Child Abuse Image Database (CAID)
The United Kingdom's Home Office announced the creation of the CAID in 2014 to respond to the increase in child sexual abuse on an international scale. Similarly to Project VIC, the CAID brings together law enforcement and industry partners to create a system for identifying victims and matching seized images in the fight against Child Sexual Exploitation and Abuse (CSEA). The CAID makes processing a suspect's property exponentially faster, speeding up the investigation and allowing the officers to have presentable, actionable evidence far earlier in their investigation. CAID has been rolled out across the National Crime Agency and UK territorial police.
Working Together
ADF Solutions proudly provides law enforcement agencies with the best digital forensics tools to help in digital forensic investigations of child exploitation. ADF software supports the work of organizations such as Project VIC, Project Arachnid and CAID. Investigators and ICAC Task Force members can utilize VICS and CAID hashsets in their child exploitation investigations using Digital Evidence Investigator® and Triage-Investigator®, with the additional option to export to Griffeye.
For more information on how digital forensics is used in an Internet Crimes Against Children investigation, please view our free webinar.