Digital Evidence Investigator Certified User Training is now available online as self-paced learning. This class was built to serve individuals and agencies that want the benefit of getting DEI Certified User credentials from ADF Solutions.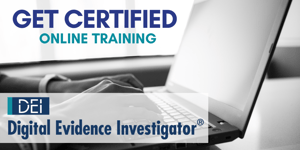 The DEI online training class was built by ADF's digital forensic specialists with years of digital forensic and law enforcement experience. Our experienced instructors had the opportunity to collaborate on the content which was further validated by a select group of beta testers from the US, UK, Australia, and around the world.
ADF led the development and deployment of triage and field investigation tools for non-technical users beginning in 2006. We have developed extensive expertise in understanding both the limitations/risks as well as benefits of leveraging investigators to support investigations and assist forensic labs with processing backlogs.
With the COVID-19 pandemic, we've seen an increase in demand for online training and while moving the DEI courseware to an online platform is new, online training is not. It's been around now for more than 20 years and we're proud that our team has leveraged years worth of best practices to develop and deliver self-paced training that will result in Certified Users being better trained and more experienced than ever before.
ADF will continue to deliver in-person training to agencies that have the desire to engage ADF or our partners to deliver courseware in this format. For those who desire to have access to certified online training which lets investigators learn 24x7 in a self-paced environment, the DEI Certified User training is ideal.
7 Benefits of DEI Online Certified User Training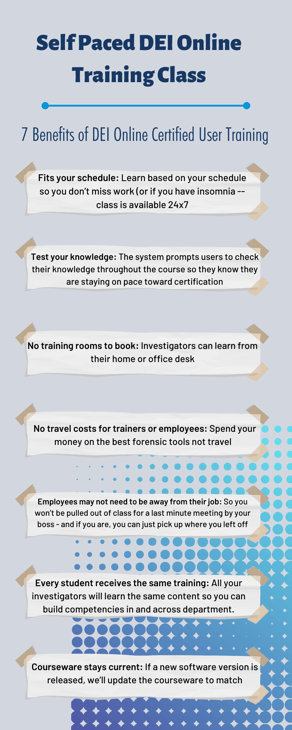 Fits your schedule: Learn based on your schedule so you don't miss work (or if you have insomnia -- class is available 24x7 :-)
Test your knowledge: The system prompts users to check their knowledge throughout the course so they know they are staying on pace toward certification
No training rooms to book: Investigators can learn from their home or office desk
No travel costs for trainers or employees: Spend your money on the best forensic tools not travel
Employees may not need to be away from their job: So you won't be pulled out of class for a last minute meeting by your boss - and if you are, you can just pick up where you left off
Every student receives the same training: All your investigators will learn the same content so you can build competencies in and across departments
Courseware stays current:

If a new software version is released, we'll update the courseware to match
DEI Certified User Training is the fastest, easiest way for investigators to learn how to use Digital Evidence Investigator.