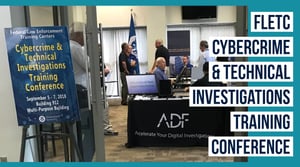 Rich Frawley, ADF Digital Forensic Specialist will be presenting "On-Scene Digital Investigation Best Practices: From Search Warrant to Court Ready Paperwork" at the Federal Law Enforcement Training Center in Glynco, Georgia this week.
The purpose of the FLETC Cybercrime & Technical Investigations Conference is to foster awareness of and provide education on the current threats and innovations that impact how law enforcement agencies deal with cybercrime and technical investigations. The training conference will include lectures, demonstrations, and hands-on labs. Law enforcement attendees also have the opportunity to collaborate with Subject Matter experts (SME's) from FLETC and partner organizations, as well as technology vendors from across the law enforcement and digital forensic industry.
During Rich's training, he'll cover how investigators, now know that every scene they arrive on there will be one or more digital devices that require investigation. Agents are beginning to understand that simply collecting the devices and sending them to a Digital Forensic Laboratory (DFL) can hinder an investigation due to backlogs and delays and that may mean that a suspect remains free, thereby threatening public safety. Rich will share best practices for how agents can use ADF Digital Evidence Investigator® or Triage-Investigator® to:
Collect - quickly determine evidence that is relevant to a case

Analyze - visualize and save case specific items of evidentiary value

Report - create prosecutorial ready reports to backup decisions
Rapid on-scene collection and analysis for Digital First Responders is increasingly important to public safety since many cases require timely intelligence to identify suspects and protect victims.
The ADF training session is perfect for investigators, examiners, prosecutors and professionals involved in digital evidence cases related to cyber threats, fraud, cryptocurrency, child exploitation, etc.