The Massachusetts Attorney General's Office (AGO) has announced the dates for the NCCC 2020 National Cyber Crime Conference (MASS.gov).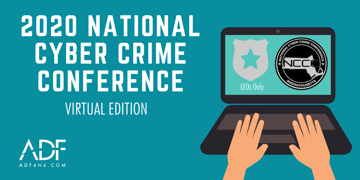 This year's conference will be hosted online over five days as a virtual conference instead of the usual Norwood, Massachusetts location.
NCCC Event Dates:
July 13, 2020 - July 17, 2020
The #NCCC2020 event is organized by the office of Attorney General Maura Healey with sponsors including ADF Solutions, the National White Collar Crime Center (NW3C), SEARCH, and the National Attorneys General Training and Research Institute.
This law enforcement conference promises to be larger than ever before and is open to police, prosecutors and forensic examiners from all 50 states, Washington DC, the US Virgin Islands and Puerto Rico. With sessions between 11:00 AM to 3:00 PM each day, the virtual event will feature multiple days of training designed to help attendees face the challenges posed by digital evidence and technology in criminal investigations. Previous years have welcomed international law enforcement attendees have come from Canada, Ireland, England as well as Trinidad and Tobago so the ability to join remotely will likely bring an even wider law enforcement audience.
This conference is expected to be one of the best law enforcement conferences of 2020 as it will feature a wide range of presentation topics and learning sessions which will be held live and recorded. Registered law enforcement attendees will be able to watch recorded training content at their convenience.
Save the Date for NCCC 2021
April 26, 2021 - April 28, 2021
The National Cyber Crime Conference is scheduled to be held in-person in 2021 at the Four Points by Sheraton Norwood 1125 Boston Providence Turnpike, Norwood, MA 02062.
Investigators and forensic examiners focused on Internet Crimes Against Children should learn about upcoming ICAC Task Force conferences in the United States.