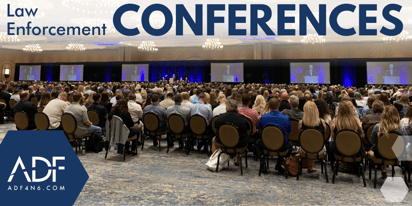 Each year, ADF works to pull together a comprehensive list of Law Enforcement conferences and events from around the world to help make it easy for professionals and industry to search and find the best events to attend.
If you're a policeman, policewoman, sheriff, constable, prosecutor or other law enforcement professional, we know you're busy serving and protecting your community so our goal is to help save them time and find the best conferences, events and training which will help you in your mission.
Types of Law Enforcement Conference and Events
There are many types of events and conferences for law enforcement professionals and if you have a limited training budget it may be tough to choose the best one for you. You might choose to attend an event because it is free, or paid for by your agency or a sponsor agency. You might choose an event because it is in your
Regional, State, Municipal and Local Events
These smaller events are great for networking with local colleagues and peers. The content is often very focused and relevant to the work you do locally. Presenters and speakers will typically share information directly related to laws, policies and procedures in your jurisdiction.
Examples:
International Association of Campus Law Enforcement Administrators (IACLEA) - to reach members this organization hosts a variety of regional events throughout the year typically hosted at one of the member campuses
Virginia Computer Forensics & Digital Investigations Conference - limited to professionals in the Commonwealth
National Cyber Crime Conference (NCCC) - organized by the Attorney General of Massachusetts this regional event has grown to attract from outside the region
Great Lakes Law Enforcement Training Conference - hosted by a half dozen Michigan agencies led by the Michigan Tactical Officers Association
Techno Security & Digital Forensics Conference

-

organized by a third party vendor, this organization hosts events in Myrtle Beach South Carolina, California and in the Mid-West
National, Federal or Multi-Country Events
These events are typically organized by national or federal law enforcement agencies but can be organized by third party organizers and are designed to bring together larger audiences and typically feature a wider number of training tracks.
Examples:
Annual Police Security Expo - this event showcases more than 700 vendors featuring thousands of police products
National Association of Police Organizations - annual events bring together more than 1,000 police units and associations
First Forensic Forum (F3) - brings together law enforcement officials from throughout the UK focused on cybercrime and digital evidence best practices
Forensics Asia Expo, Forensics Europe Expo - bringing together vendors from around the world to showcase, training and educate police on forensic and cyber crime tools
International Events
International events bring together professionals from around the world and provide good opportunities for law enforcement to network, learn and discuss topics of international importance. Topics typically focus on content related to sharing best practices and solving international crime trends. These large events bring internationally recognized speakers and can feature hundreds of police product vendors.
Examples:
International Association of Chiefs of Police (IACP) - features education, networking and access to law enforcement's leading tacticians, veteran experts and police equipment suppliers
International Association of Computer Investigative Specialists (IACIS) - this event features hands-on training for law enforcement professionals looking to learn basic and advanced digital forensic training and certification
International Communications Data & Digital Forensics (ICDDF) - an annual event focused on collaboration in digital intelligence and cyber crime investigations in law enforcement
Events by Job Role or Job Focus / Interest
Perhaps some of the most effective events from a networking or training perspective, this type of event is often, but not always, smaller and can feature valuable hands-on training for attendees.
Examples by Job Role:
Prosecutor events
Crime Scene Investigator events
School Resource Officer events
Examples by Job Focus / Interest: