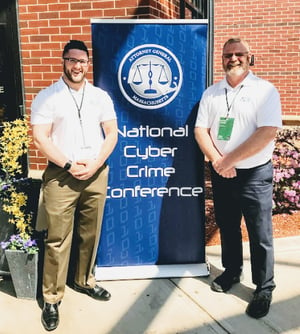 With a record number of attendees, speakers and exhibitors, the 2019 National Cyber Crime Conference organized by Massachusetts Attorney General Maura Healey's office this past week was a huge success with law enforcement professionals from 38 states, Canada, the UK and Africa.
The NCCC event was especially important to ADF since it's our first major conference of the year and it's where we officially launched our new Mobile Device Investigator™ for iOS and Android investigations. Our launch featured a demo by our digital forensic specialist, Rich Frawley who joined ADF after 22 years in law enforcement.
100+ Training Sessions for Police and Investigators
Federal, state and local law enforcement attended some of the best in-person digital forensic training with hands-on labs and lectures delivered by trainers, educators and fellow law enforcement professionals. Keynote and featured speakers included:
Juliette Kayyem, CEO of Grip Mobility
Jonathan Zittrain, George Bemis Professor of International Law, Harvard Law School
Amy Harman Burkart, Assistant US Attorney
Michael Maher, Detective, Waltham Police Department
Chris Oksala, Supervisory Special Agent, DEA
John T. Rabaut, Special Agent, DEA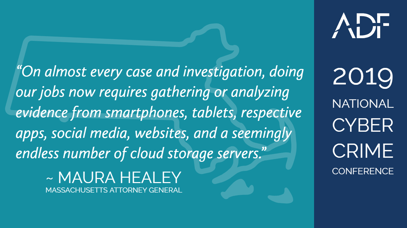 In it's 8th year, the NCCC conference has attracted nearly 20,000 attendees from throughout the United States and Canada with visitors from several other international police forces. NCCC is hosted by the Massachusetts Attorney General's Office and is designed to focus police and prosecutors on the shared mission of combating digital crime -- it is indeed a joint effort between police, forensic examiners and prosecutors.
One of the unique benefits of the National Cyber Crime Conference is that it features specific tracks for prosecutors with both lab and lecture sessions, including dedicated training on computer forensics for prosecutors, technology tools for prosecutors, and child exploitation for ICAC Task Force members.
NCCC 2020
The Massachussetts Attorney General's Office will announce next year's cyber crime conference as details become available. ADF will keep you informed and you can also check the AGO's NCCC web page. We recommend you book early to secure your spot and reserve your hotel accommodations.
Below, Digital Forensic Specialist and Trainer, Rich Frawley teaches a hands-on session in the NW3C Lab: Solving Crimes Against Children with ADF Digital Evidence Investigator.