The inaugural conference for Virginia police, sheriffs, prosecutors, digital forensics investigators, and cybercrime specialists was held last week at James Madison University in Harrisonburg, VA. The first-ever CIIFER conference (which stands for Cyber-attacks, Internet Investigations, Forensic Analysis, and Electronic Records) featured training from industry professionals, university professors, and Commonwealth attorneys.
ADF Solutions sponsored this first event of its kind which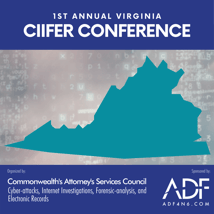 was kicked off by JMU President Jonathan Alger who welcomed the attendees after an introduction by Robert Kolvoord, Dean of the College of Integrated Science and Engineering (CISE). President Alger talked about the work James Madison is doing to prepare the next generation of cybersecurity professionals with new academic programs that respond to emerging needs and an increased emphasis on interdisciplinary thinking and problem-solving - something that is reinforced with ethical perspectives and reasoning in action in the university's Cyber Intelligence Certificate.
With training from subject matter experts from the FBI, Homeland Security, NW3C, the Virginia Department of Forensic Science, Alexandria Commonwealth's Attorney's Office, Arlington Police Department, Virginia State Police, George Mason University, and other leaders, the continuing education topics included:
Virtual Currency Investigations
Facebook Best Practices
The State of Digital Forensics
Cellsite Data Best Practices
Geolocation Data & Geofencing
Best Practices for First Responders Handling Digital Evidence
Solving Unusual Forensic Challenges
Ransomware Workshop
Darkweb Investigations
Undercover & CyberInvestigations
Search Warrants for Digital Evidence
Mobile Triage and On-Scene Evidence Collection
Mac Triage and Imaging
Media Exploitation (DOMEX)
How to Get Cloud Evidence to Move Your Investigation Forward
ADF's conference presentation focused on the power of ADF computer triage to uncover digital evidence for prosecutors and law enforcement. ADF mobile and computer software empowers police investigators, sheriffs and digital forensic experts throughout the Commonwealth of Virginia as well as federal investigators from a wide variety of federal agencies who support cross-functional cybercrime task forces including the Internet Crimes Against Children Task Forces that operate in Virginia. CIIFER is organized by the Commonwealth's Attorney's Services Council.