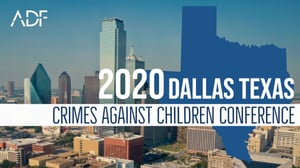 The 2020 Crimes Against Children Conference in Dallas, Texas, will be the 32nd annual conference organized by the Dallas Children's Advocacy Center and the Dallas Police Department. More than just a law enforcement conference, the event brings together child protection, advocacy and investigators. The event will be held at the Sheraton Dallas Hotel on August 10-13, 2020.
COVID-19 UPDATE: This year's event will be held virtually.
This annual event hosted by the Dallas Children's Advocacy Center and the Dallas Police Department is internationally recognized as the premier learning and networking event for those fighting crimes against children and helping children heal. The conference is designed to educate government and nonprofit employees from law enforcement, child protective services, probation, social work, children's advocacy and those that work with young people who have been child victims of crime.
Speakers from previous years have included representatives from organizations including:
Adobe
ADF Solutions
Amber Alert
Apple
Boise Police Department
Calgary Police Service
CEOP - National Crime Agency
Department of Homeland Security
Facebook
Federal Bureau of Investigation
Georgia Bureau of Investigation (GBI)
GoDaddy
Google
Illinois Attorney General's Office
Interpol
Los Angeles County
Montgomery County District Attorney's Office
National Center for Missing & Exploited Children
National Criminal Justice Training Center / Fox Valley Technical College
National White Collar Crime Center (NW3C)
U.S. Army Criminal Investigation Division
U.S. Department of Justice
U.S. Marshals Service
Royal Canadian Mounted Police (RCMP)
Seattle Police Department
Uber
Verizon
ADF Solutions regularly sponsors the Crimes Against Children Conference event to provide law enforcement and ICAC task force investigators with best practices training on solving crimes against children using ADF mobile and computer digital forensic software.
Federal, state, local and tribal law enforcement agencies rely on ADF's automated digital forensic software to help them rapidly investigate child exploitation cases beginning on-scene and in a forensic lab. ADF software Mobile Device Investigator®, Digital Evidence Investigator® and Triage-Investigator® leverage the Child Abuse Image Database (CAID) and Project Vic hashsets to speed image identification and classification thereby making it easier for ICAC Task Force investigators to quickly identify and safeguard victims.