Computer forensic software is a key tool used by forensic investigators during digital evidence collection. This software aims to allow forensic investigators to identify, collect, and analyze data quickly and efficiently. There are two types of computer forensics: network forensics and host-based forensics. Network forensics focuses on the investigation of network traffic and session information. Host-based forensics collects and analyzes individual computer systems [1]. Computer forensic software should provide range and flexibility in its use so that a variety of law enforcement entities and corporate companies can apply it in investigations. ADF's computer forensic software accomplishes this task, among many others.
Forensic Data, What is Collected, and Why You Should Choose ADF?
The ability of computer forensic software to collect different types of data and sort them in an accessible manner is another important feature. Forensic investigators may find themselves needing to collect information stored in a computer's random access memory (RAM) and cache. RAM is considered volatile memory. The data is kept only during the time the device is powered up and can be erased if the device is turned off or interrupted. RAM may contain unsaved documents, passwords, credentials, and more. ADF software makes it simple for investigators to perform RAM capture correctly and with little intrusion. ADF tools will collect volatile data first. During live analysis, ADF will access files on the target computer while scanning. ADF will access these files without modifying their timestamps.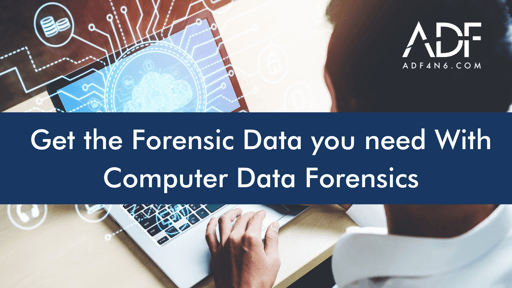 Along with RAM capture capabilities ADF computer forensic software has the ability to scan all available Mac computers including Macs with T2, M1 chips, and Mac Fusion Drive. The software is also up to date with the latest Mac software including Big Sur. Digital forensic triage on Mac computers can be accomplished by connecting the target Mac computer to an ADF workstation. With three different options for connecting to macOS computers, investigators can accomplish Mac Forensics faster and access more data.
ADF computer forensic software abilities do not stop there. Apart from providing a suite of tools for data collection in criminal matters, ADF may be used by corporate computer forensic investigators. ADF software is built to enable corporate security investigators to identify, recover, and analyze Electronically Stored Information (ESI) quickly and easily. ADF can assist companies in protecting themselves against insider threats, brand theft, intellectual property theft, or corporate fraud.
ADF computer forensic software provides for a rapid digital evidence collection. It is user-friendly and built to meet forensic investigation demands by diminishing backlogs. All ADF software shares the same intelligent search engine and rapid scan capabilities. ADF can be applied to computer forensics in law enforcement as well as corporate computer forensics.
Choosing ADF as your computer forensic software means the right support for hundreds of file types and artifacts and a better way to link all that information. You can also count on certified self-paced online training and free support. Learn more about ADF's digital forensic tools.