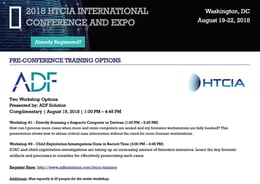 Attend HTCIA Pre-conference Training in Washington, DC on August 19th where we will be hosting two hands-on lab sessions for digital investigators. Conference attendees arriving early can register to attend one of two sessions:
The High Technology Crime Investigation Association's International Conference (HTCIA) & Training Expo is one of the oldest and most respected technology investigation and law enforcement conferences in the world. This year, the event will be held in Washington, DC at the historic Omni Shoreham Hotel and will feature an opening keynote from Chief Superintendent Jeff Adam, C/Supt. DG Technical Investigation Services for the Royal Canadian Mounted Police (RMCP).
Conference sessions include a variety of topics including:
Avoiding common bottlenecks in forensic workflows
Supporting cloud, smartphone and computer forensic artifacts in cases
UAVs (drones) and the process of extracting data from them
Understanding Bitcoin, cryptocurrencies, blockchain and their relevance in digital investigations
Detecting and investigating insider threats
Applying a triage methodology in your forensic workflow to reduce backlogs
Investigators, Police and Legal professionals who stop by the ADF booth can request a free evaluation kit of ADF Digital Evidence Investigator® forensic software and also enter the ADF drawing for a handmade by combat veterans flag from Flags of Valor.
If you're not attending the event but still interested in a trial, please submit your request and we'll review and respond.
We hope to see you at the #HTCIAconference. We'll be distributing free trial copies of Digital Evidence Investigator to qualified law enforcement professionals who perform investigations.
See a list of 2020 Law Enforcement Conferences in North America.