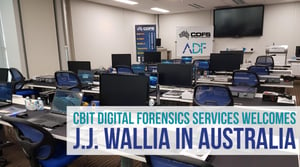 ADF Authorized Partner, CBIT Digital Forensics Services, based in Australia will be hosting J.J. Wallia, C.E.O and co-founder of ADF Solutions, for a presentation on the latest version of Digital Evidence Investigator® – plus a free half-day training session with Certified ADF Instructor Zoran Iliev using ADF Solutions to accelerate Digital Forensic investigations.
Date: Wednesday, October 3, 2018
Time: Starts at 9:00am
Location: Fyshwick ACT
Cost: Free
Seating: Strictly Limited (please note that your seat needs to be confirmed from CDFS)
About Instructor Zoran Iliev
Zoran Iliev holds Master of e-Forensics and Enterprise Security at University of Melbourne. In the position as Senior Computer Forensic Investigator, with over 15 years' experience, he conducts investigations involving all aspects of digital forensics, including specialized support to law enforcement and government agencies. He has also provided litigation support for government and corporate clients in both criminal and civil cases as well as provided material to the Supreme Court and Family Court as an expert witness.
Mr. Iliev successfully completed the ASCLD/LAB (American Society of Crime Laboratory Directors / Laboratory Accreditation Board)-International Assessor Training Course in Santa Clara, California and became a provisional ASCLD/LAB-International Assessor.
As a Computer Forensic Instructor, Zoran has delivered training to AFP, ATO, Queensland Police Service, SA Police, Crime Commission, Centrelink, DIAC, AFMA, ASADA, Australian Department of Defence, Australian Department of Environment and Heritage, Australian Nuclear Science and Technology, FACSIA, Office Of Police Integrity, Medicare Australia, Department of Emergency Services QLD, Royal Australian Air Force, ATF – USA, Corruption Eradication Commission (KPK) Republic of Indonesia, National University Singapore, Republic Polytechnic Singapore, Wellington Institute of Technology NZ, New Zealand Defence Force, Maritime Planning and Forensics -Ministry of Fisheries New Zealand, Ernst & Young, KPMG, Oakton, BDO Kendalls and many others.
Zoran's is a member of the International Society of Forensic Computer Examiners and the High Technology Crime Investigation Association (HTCIA). His qualifications include:
Certified Computer Examiner (CCE)

Certified Computer Hacking Forensic Investigator (CHFI)
CCE-Bootcamp® Instructor
X-Ways Forensics Instructor
Digital First Responder® Training Program Instructor