How We Lead
Our mentality at ADF is that in order to grow as a company, and as human beings (who doesn't want to get better?), everyone has to find ways to both lead and learn. ADF's co-founders led the way by developing DOMEX and digital forensic triage tools 15 years ago.
We've maintained our status as a leader in the digital forensic community by practicing the fundamentals we layout in our Culture Code. We don't just hire leaders like former law enforcement officers, we also grow leaders - everyone is encouraged to innovate and contribute.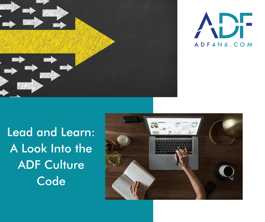 Leadership is everyone's responsibility at ADF. It isn't just top-down. Everyone has the opportunity to lead and it is expected from every team member.
This starts with the respect we show one another at every interaction - using good judgment in everyday conversations with colleagues, customers, partners, and prospects. I speak from personal experience when I say that ADF meetings start with a smile and good humor, and end with well wishes for everyone - maintaining positive, healthy respect for each other, our partners, and our customers, - simple practices that inform our daily interactions.
Everyone takes turns leading meetings, setting goals and running projects. Our philosophy is based on the reality that we are all here to serve one another and through that service, we can serve those that protect and serve communities worldwide.
How We Learn
In an industry that is always evolving and changing, one of our core responsibilities is to stay abreast of the continual technology changes across the platforms we support including iOS, Android, Linux, Windows, and Mac and to always be looking at new ways to innovate using Artificial Intelligence, Machine Learning (AI/ML) and Natural Language Processing (NLP).
As a former school psychologist, with an emphasis on the psychology of learning, I love being part of a team that emphasizes learning and growth in every aspect of our work. Whether it be our sales team actively engaging with our forensics team to learn more about the software, to our forensic team fielding questions from users that force them to think outside the box, to our technology team, constantly innovating to help our investigators solve faster on-scene, ADF always practices knowledge sharing across the company.
Most importantly, we learn from you - our customers. Our customers are at the heart of our company, and we rely on investigator feedback and feature requests as we continue to develop the very best field triage and digital forensic tools to help investigators solve cybercrime and reduce forensic backlogs.
Want to join ADF and help make a positive impact on the world? Visit our careers page or contact us.