One year ago today, we launched Mobile Device InvestigatorⓇ (MDI), ADF's powerful mobile phone forensic software that allows anyone, from seasoned investigators to non-technical team members, to quickly conduct iOS and Android investigations in the field. Using MDI, investigators can acquire evidence fast and return devices to cooperating witnesses on-scene, and triage devices that need to be seized and brought back to the forensic lab.
Why MDI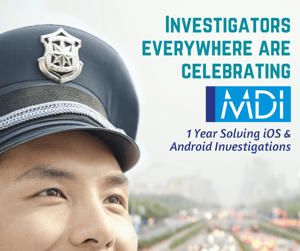 Since the introduction of smartphones, law enforcement officers have seen an exponential rise in smartphones use in virtually every type of crime - from domestic disputes to child exploitation, to fraud, terrorism, and even insider threats. Smartphones and tablets have become extensions of their users, and technology needed to match that usage with a powerful response.
Officers are faced with challenges such as needing to take the device to the lab, non-cooperating witnesses, or extended wait periods based on the evidence needed from the devices. Investigators and prosecutors need an easy-to-use solution - software that investigators can easily use to conduct mobile device evidence collection and analysis so they don't need to seize every phone.
Our Process
We made MDI easy-to-use. Simply by connecting a suspect device via USB port, investigators can quickly collect evidence and perform an advanced logical acquisition. MDI requires minimal training so that even non-technical investigators can quickly collect, analyze, and report on evidence.
Mobile Device Investigator® was built on the ADF platform with the same robust user interface used to speed investigations with Digital Evidence InvestigatorⓇ and Triage-InvestigatorⓇ so MDI offers the same ADF features that include creating custom reports with tagged data, fast advanced logical acquisition of up to 4GB of data per minute, and the ability to conduct an in-depth analysis of the data using the visual classification, timeline view, and viewing links between files of interest and user activities.
Innovating to a Higher Standard
In the year since the launch of Mobile Device InvestigatorⓇ, MDI has benefited from expanded capabilities and usage. In addition to bundling MDI with our ADF PRO forensic tools, so investigators and examiners can exploit smartphones, tablets, and computers, we have added advanced features for investigators to retrieve artifacts without performing complex and time-consuming rooting processes. Benefits of the latest MDI version include:

Faster, targeted logical acquisition
Integration with Project VIC International and CAID hashsets
Natural language processing, gisting, and entity extraction of all documents and text-based communications in over 230 languages with the Rosoka Add-On
Recovery of deleted records from SQLite
Integration with forensic kiosk solutions
The Future of MDI is Bright
We continue to innovate and obsess over how to make MDI even better. I am pleased to report that we have some groundbreaking updates on the horizon. In the upcoming update of MDI software, expect to see screenshot capabilities that capture connected mobile devices. Other exciting new features include:

Improved chat records display
Improved post-scan Artificial Intelligence (AI) and Natural Language Processing (NLP) with greater control
Customizable reports
Ability to create a local audit trail of all user interactions
ADF is dedicated to innovation and growth, and our roadmap guarantees that we are best serving those who serve. Look for faster and targeted logical acquisitions, capture capabilities for even more artifacts and records, and cross-intelligence mapping with other devices, including computers. It's thanks to your feedback that we continue to grow and it's why we followed up to launch our Mobile Device Investigator Field Tablet.