This week kicks off the 2020 National Child Protection Task Force Conference. In response to the COVID-19 pandemic, NCPTF has moved the conference and training online as a virtual event with the focus on cyber response for missing child investigations. The topic is of vital importance since so many children around the world are online and at increased risk during the pandemic.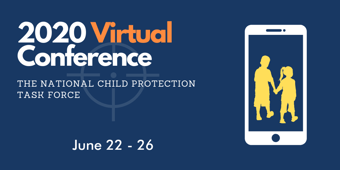 This three day event, is geared toward teaching law enforcement professionals to enhance and expand their ability to identify and track suspects involved in child exploitation and child sexual abuse material.
The law enforcement conference, will feature a variety of training from industry experts that will share best practices for identifying, locating and tracking human traffickers and child predators. This year's conference topics cover subjects including:
Cryptocurrency - understand these virtual currencies and how to investigate them
Data Exploitation - how to utilize online data and open source intelligence (OSINT) to uncover key data in child exploitation and human trafficking investigations
Legal Strategies – learn best practices for navigating the legal process to maximize results from service providers
Analysis and Mapping – how to analyze and map data from providers
Dark-web Investigations – learn strategies for Tor investigations
More than twenty speakers will share their knowledge, expertise, tips and techniques during the conference including industry experts from organizations including:
Coinbase
Innocent Lives Foundation
Louisiana State Police
Microsoft
National White Collar Crime Center (NW3C)
Naval Criminal Investigation Service (NCIS)
NCPTF
Texas Rangers
York County District Attorney's Office
The National Child Protection Task Force is a nonprofit focused on providing access to investigator resources and expertise to law enforcement agencies that are under-funded or that don't have access to necessary resources. Task force members volunteer to help solve critical cases involving child exploitation, human trafficking and missing persons as well as drug, property, homicide and terrorism cases.
This free event is sponsored by companies helping combat child exploitation cases and is a great complement to regional ICAC task force conferences in the United States.