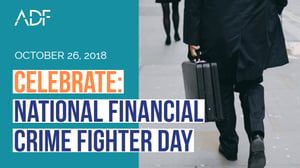 October 26, 2018 is the inaugural National Financial Crime Fighter Day created by Banker's Toolbox as a way to honor and celebrate the critically important work done by financial crime fighters and professionals who work every day to protect our financial system.
These states issued formal proclamations:
Alabama
Georgia
Iowa
Louisiana
Michigan
Minnesota
North Carolina
Tennessee
Texas
Fraud and economic crimes are now common occurrences and investigators face a daunting task of responding to fraud and economic crimes quickly in order to preserve evidence and prevent harm to additional individuals, organizations or governments. During fraud and economic crime investigations and incident response, multiple computers and devices are often seized.
ADF Digital Evidence Investigator® software enables corporate security and law enforcement (federal, state and local agencies) to begin their investigation using an intelligent automated approach to financial crime cases.
Learn how investigators use ADF software to solve fraud and economic crimes fast with ADF software. See Digital Forensic Specialist, Rich Frawley, lead you through a recorded example fraud investigation.