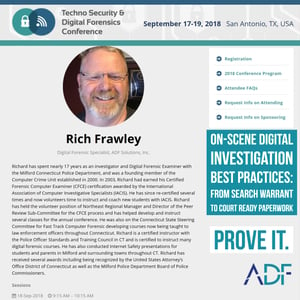 Join ADF Digital Forensic Specialist, Rich Frawley as he presents "On-Scene Digital Investigation Best Practices: From Search Warrant to Court Ready Paperwork" at the Techno Security & Digital Forensics conference in San Antonio, Texas. The Techno event is a follow up to the top rated Techno Security & Digital Forensics Myrtle Beach event earlier this year where ADF was a Gold Sponsor.
The Texas digital forensics conference features dozens of presentations from industry leaders in the areas of Investigations, Information Security, Audit/Risk Management and Forensics. Register to attend September 17 - 19, 2018 at the Hyatt Regency San Antonio.
There are more than twenty (20) digital forensic presentations from industry experts including:
Apple File System Imaging & Analysis Considerations for Forensic Examiners
Leveraging AI in Forensic Investigations
Traces from the Cloud: Forensic Analysis of Cloud Storage
New Threats from Above: A Look at How Unmanned Aerial Vehicles (UAV) "Drones" are Being Utilized in Crimes Around the World
Confronting the Growing Digital Data Universe
FBI's Next Generation Identification (NGI) System: Implementing the Future of Identification & Investigative Services
Social Media Analysis and Counter-Terrorism
On-Scene Digital Investigation Best Practices: From Search Warrant to Court Ready Paperwork
Drone Data: Extraction, Decoding, Analysis. What Happens When a UAV is Involved in Your Investigation
Prudent and Practical - A Model for Establishing and Running a Digital Forensics and eDiscovery Program Supporting Company Litigation, Investigations, and Incident Response in the Enterprise
Analyzing Android Malware: The Devil is in the (Zipped) Details
Mobile Acquisition Uncovered: The Past, Present and Future of Mobile Device Investigations
Smartphone Processing and the App Data You Should Find
Damaged Device Forensics
Building the Next Generation of Cyber Security and Forensics Professionals: Bridging the Gaps Between Research and Practice
High Stakes Evidence Tampering and the Failure of Digital Forensics
Improving USB Device Forensics
Spotlight on How Mac's Spotlight Feature Can Help Investigators
Digital Forensics, The Future of Automation
The Missing Manual - Plaso (Log2timeline) Filtering
Attendees for Rich's session with qualified organizations seeking to enable field investigators with digital forensic triage capabilities will be able to request a free trial of ADF Digital Evidence Investigator for their high tech crime unit, prosecutor's office, ICAC Task Force, or agency use.